Holman Farming Group
Our Story
Holman Farming Group is a dryland grain farm headquartered in Luseland, Saskatchewan Canada. The family farm has been operating for 4 generations and is currently owned and managed by Dan and Stacey Holman and Rod and Gayle Holman.
Please visit the customer section of our website for more
information about the crops that we produce and the markets we sell them to.
Dan and Stacey Holman
Dan studied Agriculture at the University of Saskatchewan (U of S), where he received his Bachelor of Science degree, specializing in Crop Science in 2005 and his Master of Science degree, specializing in Agricultural Economics in 2008. During the time between school years he spent three summers working as a sales rep for Bayer Crop Science in Alberta. In 2007 Dan married Stacey and they moved to the Luseland area to begin their careers. Shortly after moving to the farm Dan to begin work as a grain merchandiser with North West Terminal (NWT) in Unity, SK and became involved in the family farm. Dan's main contribution to NWT during his tenure was to refine and develop the cash merchandising and price risk management system for the company. He is especially proud of the wheat merchandising currency risk management system he created. In 2012 Dan left his position at NWT to focus solely on running the family farm. For the past nine years he has been a student of the Strategic Coach Program for entrepreneurs and in 2017 he completed the first session of The Executive Program For Agricultural Producers at Texas A and M.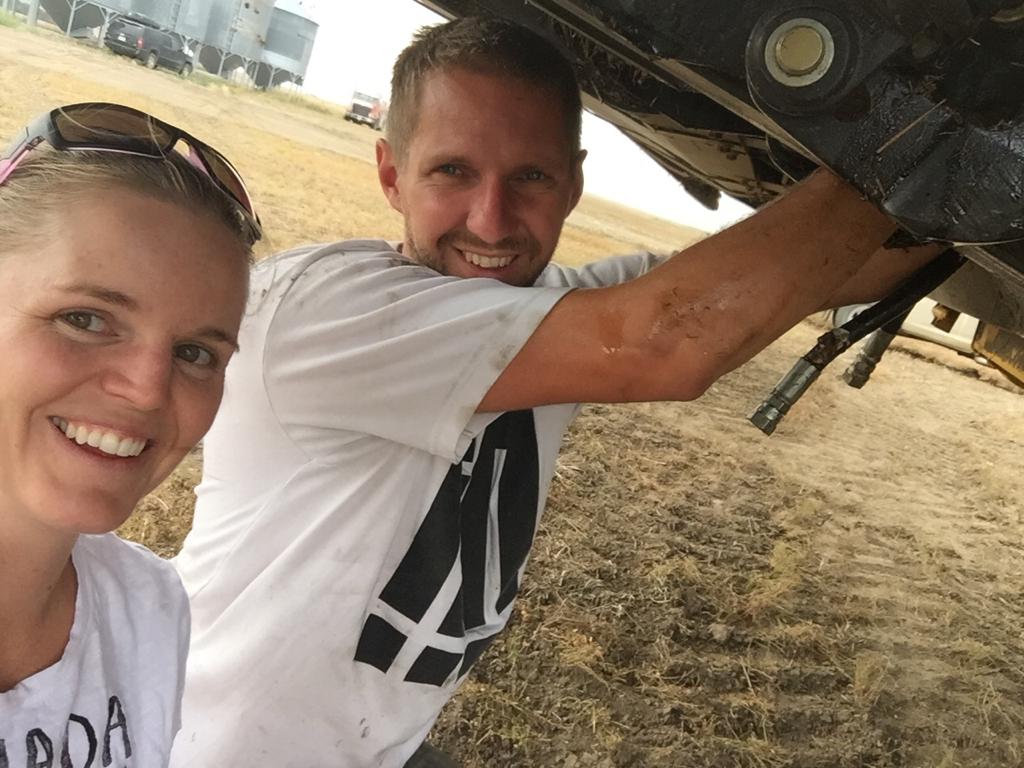 In the past Dan has had the opportunity to give market outlook presentations at conferences including Pulse Days in Saskatoon and Grain World in Winnipeg, has given marketing seminars to farmers, given guest lectures in grain marketing at the U of S, and has had articles published in Grain News. He has delivered presentations about his family's farm at conferences organized by CAFA (Canadian Association of Farm Advisors) and FMC (Farm Management Canada) and AAPEX (Association of Agricultural Production Executives) and sat on a farmer panel at FarmTech. Most importantly, he is the father to four amazing little girls (Lily, Claire, Harper, and Stella)
Stacey grew up on a farm near Briercrest, Saskatchewan. She studied Pre-Veterinary Sciences for two years at the University of Regina before being accepted in the Western College of Veterinary Medicine at the University of Saskatchewan where she met Dan. After receiving her Doctor of Veterinary Medicine (DVM) in 2006 Stacey worked as a small animal Veterinarian at the Moose Jaw Animal Clinic in Moose Jaw, SK prior to marrying Dan in 2007. After getting married they moved back to the Luseland area to become involved with the Holman's family farm, and Stacey began work at the Border Veterinary Clinic in Provost, AB. She continued to work there up until the birth of their third child in 2012. Since then Stacey has divided her time between managing their four daughters and helping out on the farm. Over the years her role on the farm has changed from making and delivering meals for the harvest crew into being a seasonal equipment operator and helping to create systems to increase efficiency in the shop and office.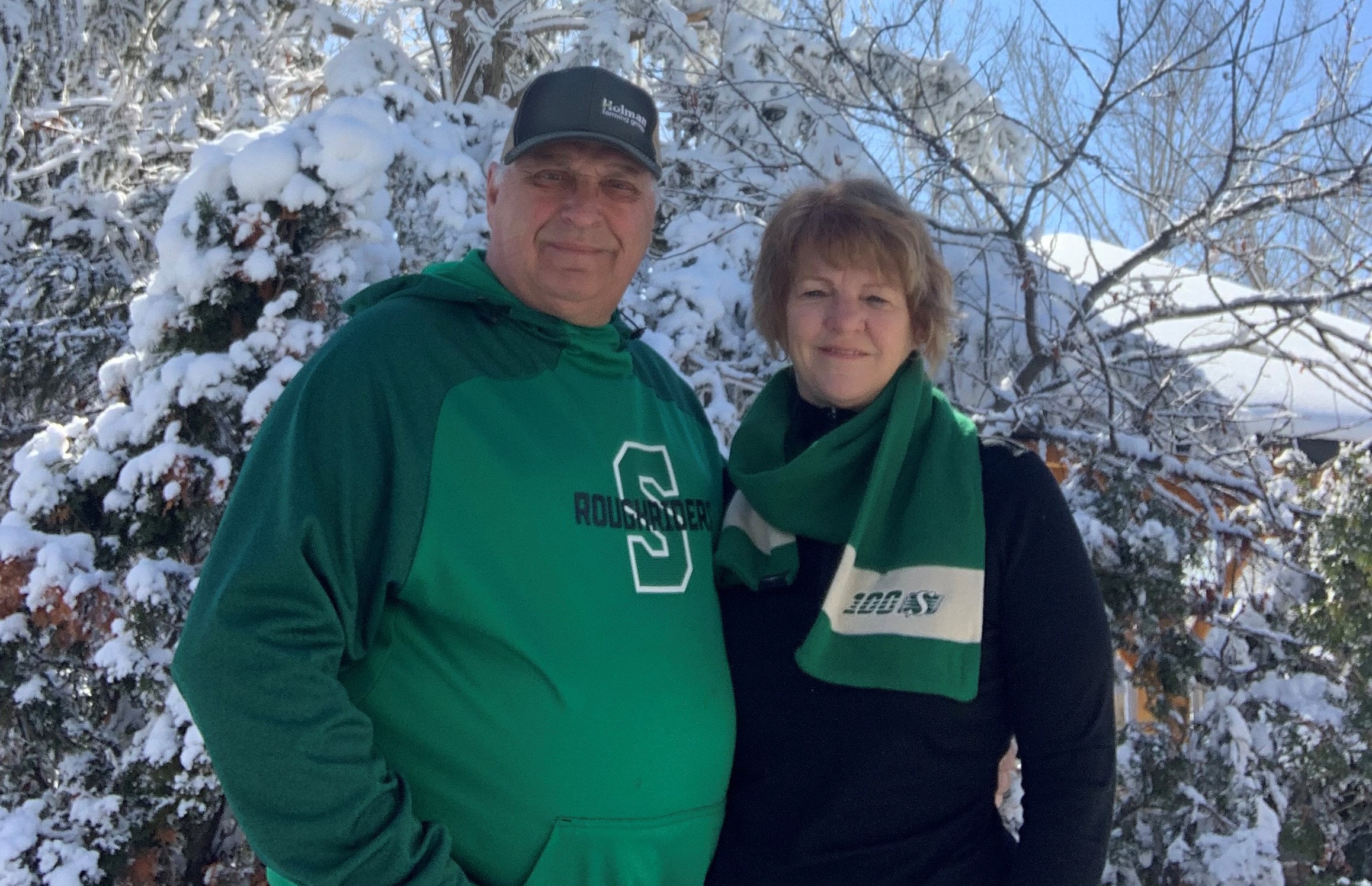 Rod and Gayle Holman
Rod has been an entrepreneur his whole life.  He started his farming career in 1976 after finishing high school.  He farmed with his family while also establishing his commercial trucking business in the early 1980's.  Since inception the trucking company's commitment to customer service and reliability allowed the company to expand steadily into the early 2000's.  At this time an opportunity came up for Rod to become more involved in his true passion, farming, and he chose to wind down his custom hauling and farm fulltime.  Being able to draw on Rods 20 years of hiring, training, and retaining staff in the trucking business has been a tremendous advantage to our farm's operations.
Gayle FCPA, FCMA  is a current member of CPA SK.    Her previous employment off the farm was with North West Terminal (NWT).  Gayle had been employed as Chief Financial Officer (CFO) with North West Terminal Ltd. ("NWT") in Unity, Saskatchewan for over fifteen years.  Gayle retired in July 2015 from NWT and began to take on more financial responsibilities with the farm.   Since receiving her CMA  designation in 2004, Gayle has held several positions on Provincial Council, both in the legacy CMA SK  and the current CPA SK accounting bodies, which included President of CMA Saskatchewan , and an appointed to newly legislated CPA SK Board on November 10,  2014.   With the merger of the accounting professions (CMA, CA, CGA) in Canada, Gayle was involved with the SK Transition Steering Committee and the successful merger of the three accounting bodies on Nov 10, 2014.  Gayle has served on the CPA Saskatchewan Board of Directors since the inception of CPA Saskatchewan/CPA Canada.
Gayle received the Fellow of the Society of Management Accountants of Canada (FCMA) in July 2013.
Farm History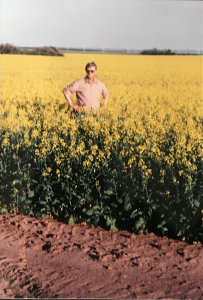 Rod's grandfather Allen Vivian (A.V.) started the Holman farm on NE-36-36-27 in 1908.  The original homestead is approximately 16 miles west of Luseland.  Operations of the farm were transitioned from A.V. and his wife Pauline to their son Ernie and his wife Angie Holman in the 1950's.
In the late 1970's Ernie and Angie's son Rod along with wife Gayle Holman started to farm with Ernie and Angie on a small scale while running a custom grain hauling business.
In the 2000's Rod and Gayle became sole operators of the farm.  Around that same time their son Dan and his wife Stacey began to farm in conjunction with them. Since taking over the family farm we have been steadily increasing the farms production base from 2500 acres in 2005 to where it is today.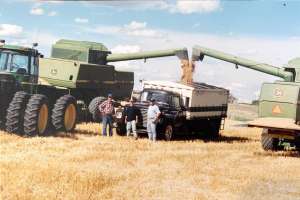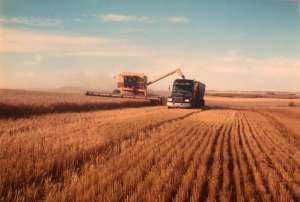 Who We Are
Our Team